LDP and pseudowires
The Label Distribution Protocol (LDP) is a protocol defined by the IETF (RFC 5036) for the purpose of distributing labels in an MPLS environment. It has been designed in 1999 and was successful in its first mission thanks to a large adoption by packet equipment vendors. Its first immediate success makes LDP the best candidate for a basic signalling/routing protocol for pseudo-wires. It has been used now for 5 years in IP/MPLS networks and its success now knock at the door of the access network. Tellabs has published an economical study of the success of such technology. This introduction at the access will again bring LDP in front with a concern on large scalability.
MARBEN LDP and PseudoWire DevKit
MARBEN LDP for pseudowire can face the challenge of the access equipment and of the core equipment thanks a technical but also commercial scalable solution.
MARBEN LDP for pseudowire tackles also the redundancy concerns for the dual homing and the best quality of experience of the end customer.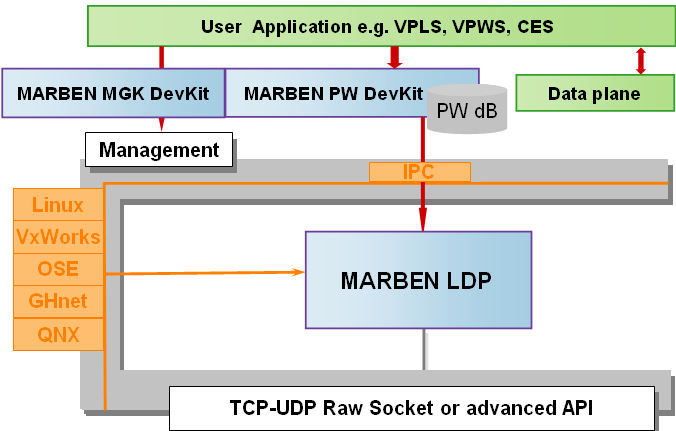 MARBEN LDP and PseudoWire DevKit
See LDP datasheet for more information or contact sales@marben-products.com.