MARBEN Link Resource Manager
The Link Resource manager as defined by ITU-T performs local TE-Links management: TE-Links include local data-links, bundles and Forwarding Adjacencies.
Therefore the MARBEN Link Resource manager uses the MARBEN Traffic Engineering Development Kit (and its MARBEN LMP Development Kit extension) to advertise local TE-Links. Bundling is driven by the user-application, or by provisioned policies. Whenever connections are setup, modified, rerouted or torn down, the MARBEN Link Resource manager takes charge of:
Downstream local TE-Link and data-link selection;
TE-Link resource update in OSPF-TE or ISIS-TE advertisements;
Transport plane resource allocation/de-allocation through an customizable interface. Such an interface is asynchronous.
The MARBEN Link Resource Manager also provides an entry point to be warned in case of local transport plane resource failure or recovery, so that it can acts upon it (this is really part of the transport plane access interface discussed right above). As a consequence, the Link resource manager takes care of the LMP fault localization procedure.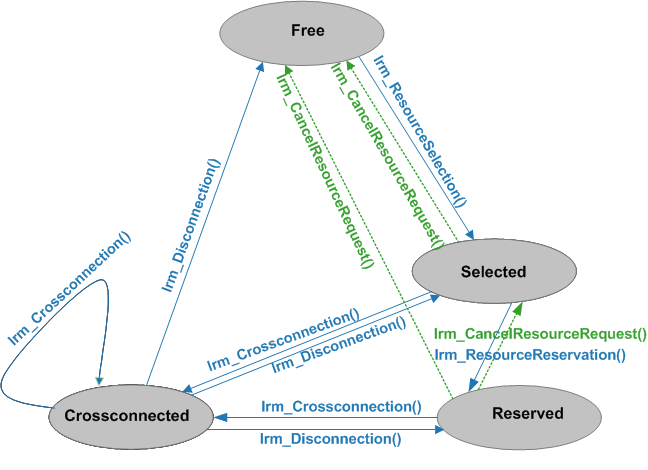 State machine for TE link resource management