GMPLS for MPLS-TP packet transport networks
MPLS-TP has been the main focus for equipment vendor, carriers and Standard Developing Organizations (SDOs) for the last three years. MPLS-TP has been built as a profile of MPLS for the transport network. MPLS-TP has been designed in order for connections, OAM and protection to fully operate without a control plane. This point has been required by carriers in order to keep MPLS-TP simple and the most deterministic allowing quick detection and correction for any SLA violation by NMS-based operations. This transport technology as opposed to an IP/MPLS network should give the network operators full control of their networks.
But, MPLS-TP is based on the same architectural principles of layered networking that are used in longstanding transport network technologies like SONET/SDH and OTN. Service providers have already developed management and control plane processes and operating procedures based on these principles. It makes a great sense that this transport technology should also require control plane for its provisioning at both Pseudowire and Traffic Engineering levels. Marben believes that a reliable control plane is the next extension to such technology.
MARBEN GMPLS for MPLS-TP
MARBEN GMPLS for MPLS-TP is built to offer a high level interface programmatic interface that enables: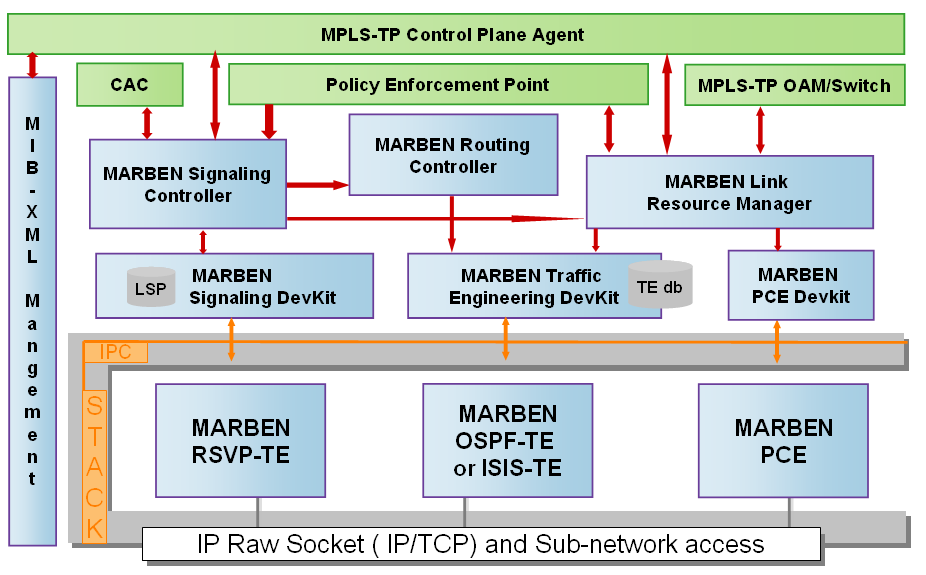 Benefits from Marben
Carrier grade
The MARBEN GMPLS implementation is carrier grade thanks to its high quality of development and dedicated features:
Graceful restart mechanism is applied to all protocols and integrated offer,
High availability interface thanks to checkpoint services of all data stored in LSP and TE database,
Universal management interface that can be plugged to any management agent with set/get/rollback functions.
Simple and modular architecture
Marben is reusing its long experience on networking protocols design and porting for this offer. This control plane offer is integrating the whole MARBEN GMPLS offer with its PCE architecture and also the the pseudo wire control plane based on MARBEN LDP for Pseudowire.
Standard up-to-date
Marben is adding further enhancements to meet the newest MPLS-TP standards that converge now at IETF. This allows our customers to deliver MPLS-TP capable devices at the earliest opportunity.