LDP based pseudowire control plane
Pseudowire is simply the most important facet of the transformation of multilayered networks into truly converged networks. Pseudowire technology is facing such a success into carrier networks that is requiring now scalable, redundant and simple provisioning implementation.
Signaling protocols for auto-provisioning have been the most important companion in such complex networks. If Label Distribution Protocol (LDP) has been drafted in 2000 at IETF within the MPLS working group, evolutions and enhancements on this protocol all along this last decade have deprecated the first implementation as they reach many performance limits.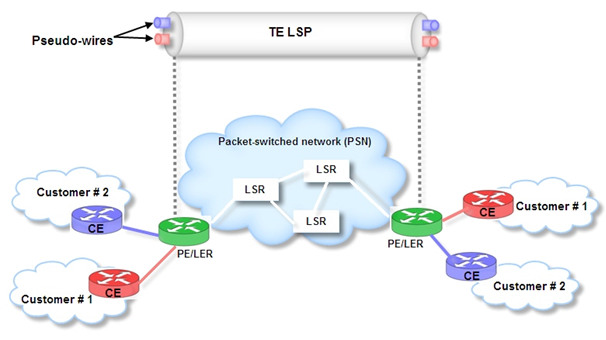 MARBEN LDP for pseudowire
MARBEN LDP for pseudowire offers a truly scalable and up-to-date LDP protocol stack for pseudowire. It has been designed more specifically for pseudowire and its relying application VPWS and VPLS.
Its features include support of:
The complete Label Distribution Protocol as per RFC5036 ( RFC5036 deprecates the former RFC3036)
Both IPv4 and IPv6 but also LDP over IPv4 and LDP over IPv6 as per draft-ietf-mpls-ldp-ipv6 for easing migration to IPv6
Both discovery modes: targeted for pseudowire but also basic mode
Loop detection using both hop count and Path Vector
Support of LDP management information base as per RFC3815 and Pseudowire MIB description as per RFC5601.
Carrier grade and high efficiency
Scalability
Scalability is guarantied by a strict design of the LDP features managing fine grain locking and timer and multi queue processing.
Red black binary trees ensure the best scaling with number of PW supported.
Adaptability
MARBEN LDP for pseudowire can handle proprietary Tag-Length-Value Objects (TLVs). Customization entry points are also available to adapt the regular behavior for OEM extensions.
Interoperability
MARBEN LDP for pseudowire interoperates with all the major providers including Juniper, Cisco, Alcatel Lucent and Ericsson. Interoperability issue is treated as problem within the regular maintenance contract.
This stack gives a great advantage for an equipment vendor that wants to handle a carrier grade LDP implementation. It reduces time to market and Marben can gives also a great bootstrap thanks to its know-how on such protocol.