Internet Protocol Suite
The SONET standards initially specify an OSI protocol stack for the management of network elements through the SONET section Data Communication Channel. Since some equipment manufacturers select now IP based management Systems (e.g. SNMP), and the standardization of future management networks relies on Internet protocols, MARBEN Products has enhanced its MARBEN OSIAM product line with its Internet Protocol Suite.
The offer is not just another Internet Protocol suite but a solution to enable carriers to have both IP-based and OSI/CLNP based Networks Elements on the field.
The Internet Protocol Suite includes efficient implementations of:
TCP, UDP, IP, ARP, RARP and ICMP. This base foundation offers main required features for your IP based Data Communication Network.



Integrated IS-IS. This implementation fully complies to the ISO 10589 and RFC 1195. It supports routing for IP, OSI and DUAL nodes thanks to its high integration with the OSI and IP protocol suites. Thanks to its open architecture, it supports all Traffic Engineering extensions.


FTP client with its High Level API for easy application development. Directly integrated into the stack framework, the FTP engine offers a simplified service through its user API.




DNS resolver to retrieve domain names/IP addresses associations.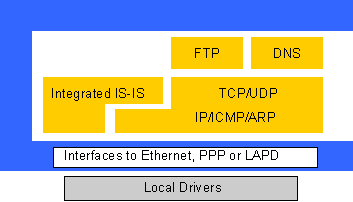 Internet Protocol Suite