OIF 2009 OIF Worldwide Interoperability Demo
Enabling Broadband On-Demand Services
The Optical Internetworking Forum (OIF) carried out a worldwide interoperability demonstration in 2009.
Marben Products successfully took part in this event with its GMPLS control plane emulator, deployed in five of the participating carrier labs: Verizon in North America, France Telecom and Deutsche Telekom in Europe, KDDI and NTT in Asia.
Multiple domains, made of multiple vendor equipments and hosted by multiple carrier labs across North America, Europe and Asia, were inter-connected at the control plane level to support inter-domain services.
The following figure shows the different carrier labs, and equipment vendors that participated to this event.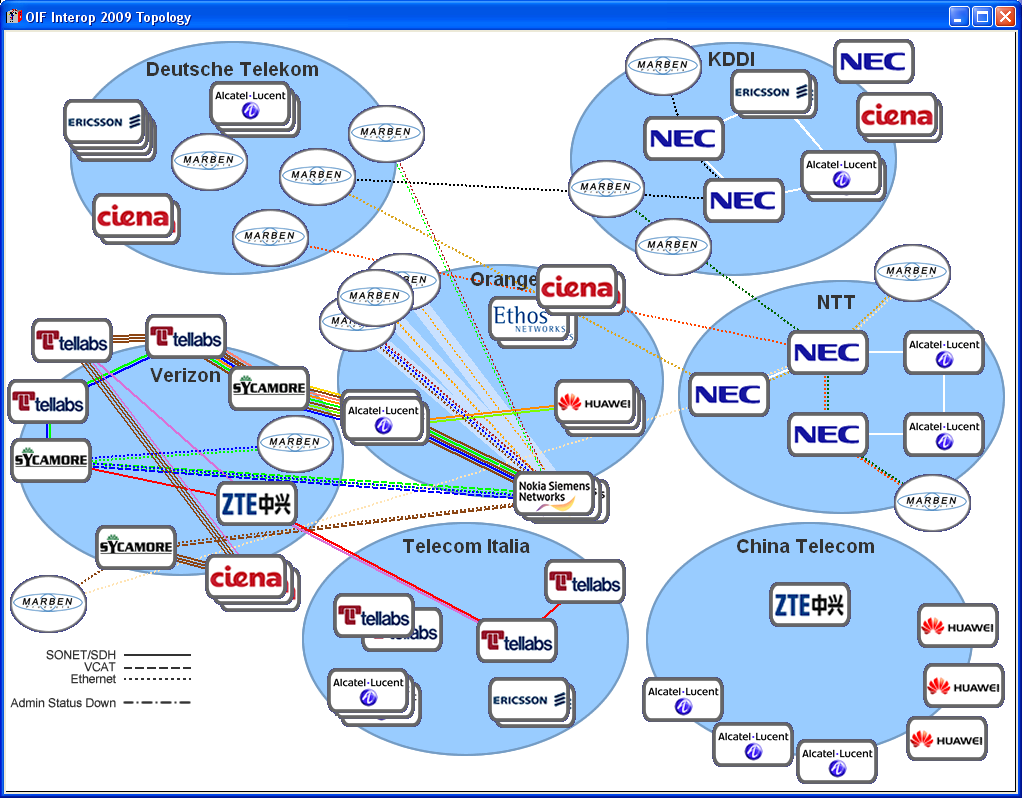 Network Interface Topology diagram
This event demonstrated the establishment of Ethernet Virtual Private Line (EVPL) services over different core technologies such as PBB-TE, MPLS-TP, SONET/SDH and OTN: one of the key message being sent out by this demonstration is that OIF UNI enables Ethernet services to be carried over different transport network technologies.
It also demonstrated control plane driven call restorations across multiple domains.
The control plane implementations were based on OIF UNI 2.0 and E-NNI 2.0 implementation agreements.