LTE/UMTS ASN.1 Value Editor
Easy Processing of 3GPP LTE/UMTS Messages
MARBEN LTE/UMTS ASN.1 Value Editor is a graphical tool dedicated to edit and visualize 3GPP LTE and UMTS ASN.1 interfaces.
It is delivered with the latest versions of the most important 3GPP ASN.1 interfaces: TS 36331 (RRC), 36413 (S1AP), 36423 (X2AP), 25433 (NBAP), 25331 (RRC), 25413 (RANAP), 25423 (RNSAP), 25419 (SABP). The interfaces can immediately be used for decoding, encoding, visualization and modification. The included ASN.1 interfaces cover release 8 to 12.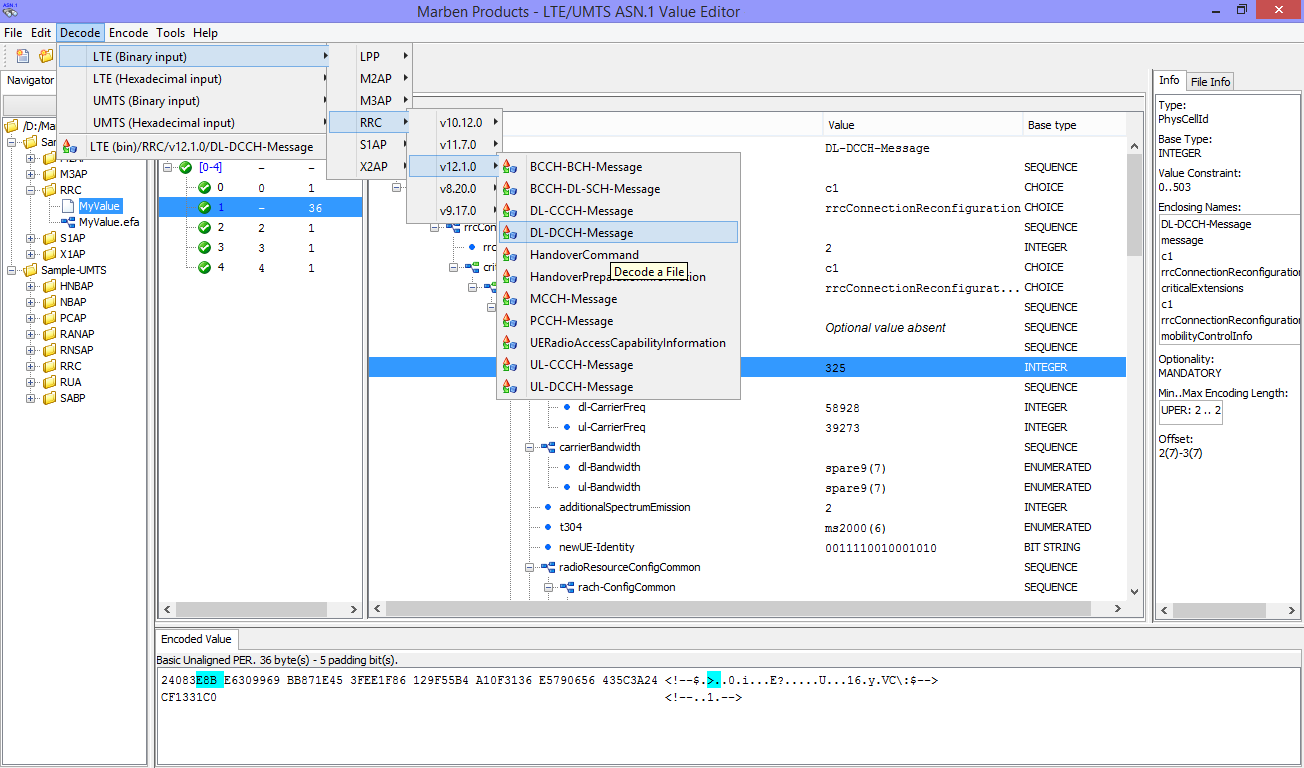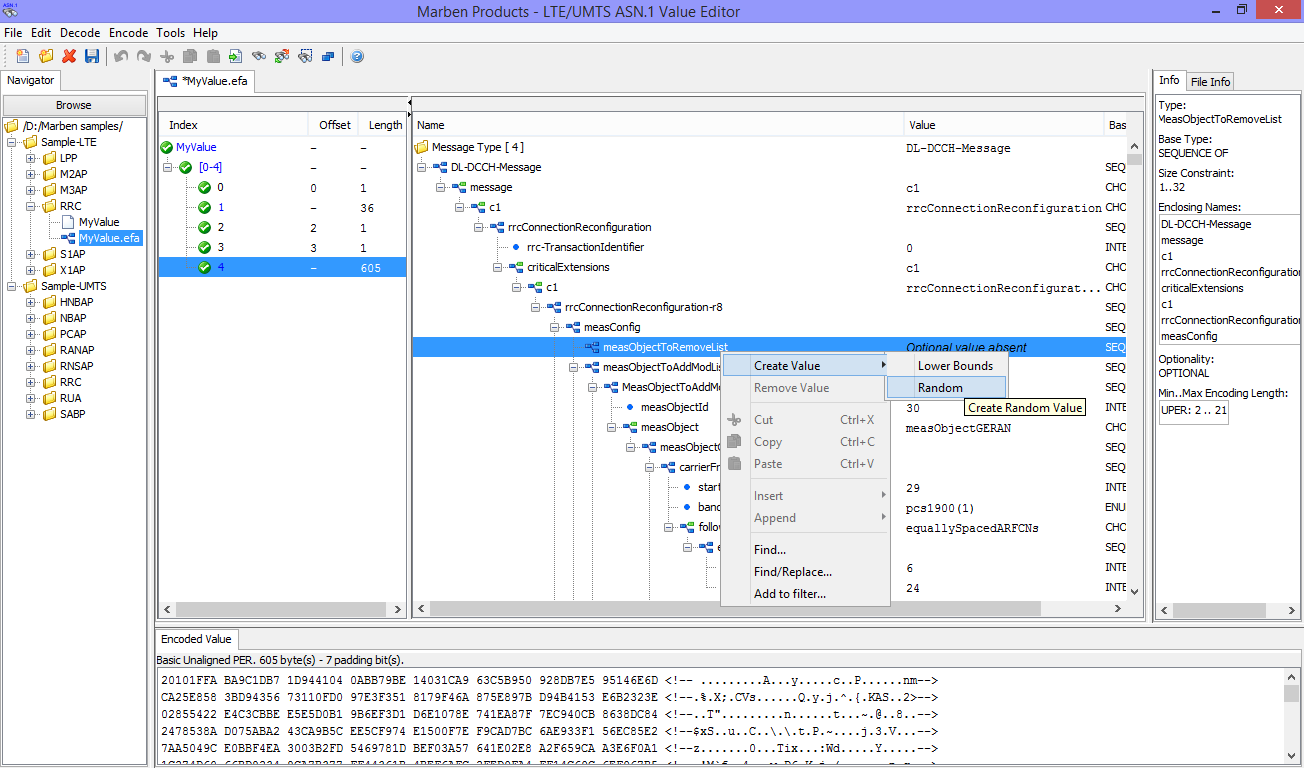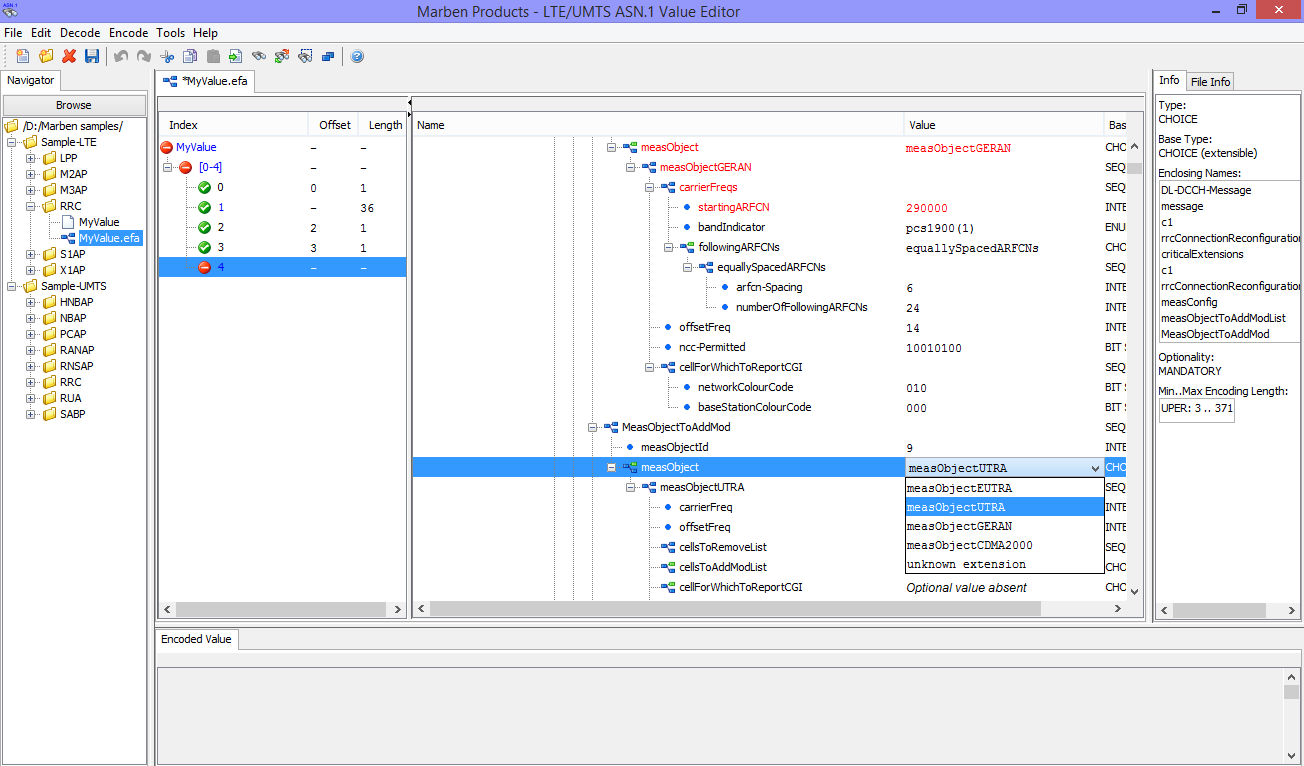 LTE/UMTS ASN.1 Value Editor offers a large set of ready-to-use 3GPP LTE / UMTS ASN.1 syntaxes
User-friendly GUI
All the 3GPP interfaces are perfectly integrated in a user-friendly graphical interface which is optimized for the work with these LTE/UMTS interfaces. The required 3GPP specifications can easily be accessed from popup and main menus. Just choose the corresponding release and version, no need to specify message PDU or encoding rules.
Various Input and Output Formats
The LTE/UMTS ASN.1 Value Editor processes binary and hexadecimal files. Decoded data can be copied to external texted based applications like mail or text.
Detailed Information for Types and Values
The LTE/UMTS ASN.1 Value Editor displays various useful information for types and values: constraints, optionality, encoding lengths and bit offsets. With the calculated minimum and maximum encoding length it is easy to predict minimum and maximum encoding sizes of a type and a value.
Automatic Value Creation
You can easily create message by choosing among the integrated 3GPP interfaces. Mandatory, optional or extension fields can automatically be initialized.
Advanced Open Type Support
Some of the 3GPP LTE and UMTS interfaces contain open types. The definition and creation of such open types requires advanced knowledge about ASN.1 and is not always straightforward. In order to ease the usage of open types, the LTE/UMTS ASN.1 Value Editor offers several ways for their definition: They can be specified by setting the values of the target @notations or by selecting the open type from a list of all available types which then sets automatically the corresponding values for the target @notation.
Immediate Validation of ASN.1 Messages
When modifying ASN.1 messages the LTE/UMTS ASN.1 Value Editor validates your entry immediately. This immediate value cheking will save you a lot of time to ensure the new value validity and locate all erroneous values in messages.
Advantages of using MARBEN LTE/UMTS ASN.1 Value Editor
The following table summarizes the differences between the Online ASN.1 Decoder, the ASN.1 Value Editor and the LTE/UMTS ASN.1 Value Editor.
Online ASN.1 Decoder
Use online decoder
ASN.1 Value Editor
LTE/UMTS Value Editor
Download free trial (*)
Usage
Online
Internet access required
Offline
Graphical User Interface
Offline
Graphical User Interface
Dedicated for
3GPP LTE/UMTS
User interface complexity
Low
Medium
Low
ASN.1 knowledge required
Not required
Basic
Not required
ASN.1 Decoder
ASN.1 Encoder
ASN.1 Compiler
TAP3
CDR
BER Analyzer
Bitwise Inspection
Hexadecimal Inspection
Message Creation
Number of PDUs
1
Unlimited
Unlimited
Input Size
<500 KB
Unlimited
Unlimited
XML Output
CSV output
Message Size Calculation
Block Size & Padding
n/a
Search / Replace / Compare / Filter
ASN.1 Value creation and edition
Check of correctness of ASN.1 value
Copy/paste in XML format
Copy binary encoding
Included ASN.1 interfaces from...
see website
3GPP, ETSI, ITU-T, ECMA, IETF
Only
3GPP LTE/UMTS
User ASN.1 Syntaxes
Supported ASN.1 syntaxes
see website
All
Only
3GPP LTE/UMTS
Supported encoding rules
see website
BER, DER, PER, UPER, XER, CXER
Those required for
3GPP LTE/UMTS
MARBEN LTE/UMTS ASN.1 Value Editor
is the essential tool for saving time
during 3GPP LTE and UMTS integration and validation processes.
Download free trial version of the LTE/UMTS Editor
to discover all its valuable capabilities
System Requirements
MARBEN LTE/UMTS Value Editor is available on:
PC Windows
Most Linux distribution (RedHat, Suse, Mandriva, Ubuntu, Fedora...)
Requires Oracle Java 2 version 1.6 or later.